Parloa's easy-to-use interface
Create, train, and tweak conversations in just a few clicks. Our interface is designed to delight your customers.
Tap into a great user experience
Reclaim time & accomplish more
Create complex, customized dialogs in just a few clicks, all without having to enlist the help of IT. Reinvest the time you save in other important tasks.
Reduce costs & increase margins
With a user-friendly interface designed for the average user, all contact center professionals — even those without advanced technical skills — can use Parloa productively.
Tailor-made for your enterprise
Connect Parloa to the tools your team uses every day, including CRM, ERP, and analytics solutions, via SIP, RESTful APIs, and more to enable your bot to provide end-to-end customer service.
95%
accuracy transcribing insurance numbers
70%
automated order conversion
10%
automated order upsell rate
Better than peanut butter & jelly

Leading-edge AI tech & the most intuitive user interface

Parloa makes it easy to create great conversations without having to rely on IT. Plus, it's fully customizable and scalable for your enterprise — and really fun to use, too!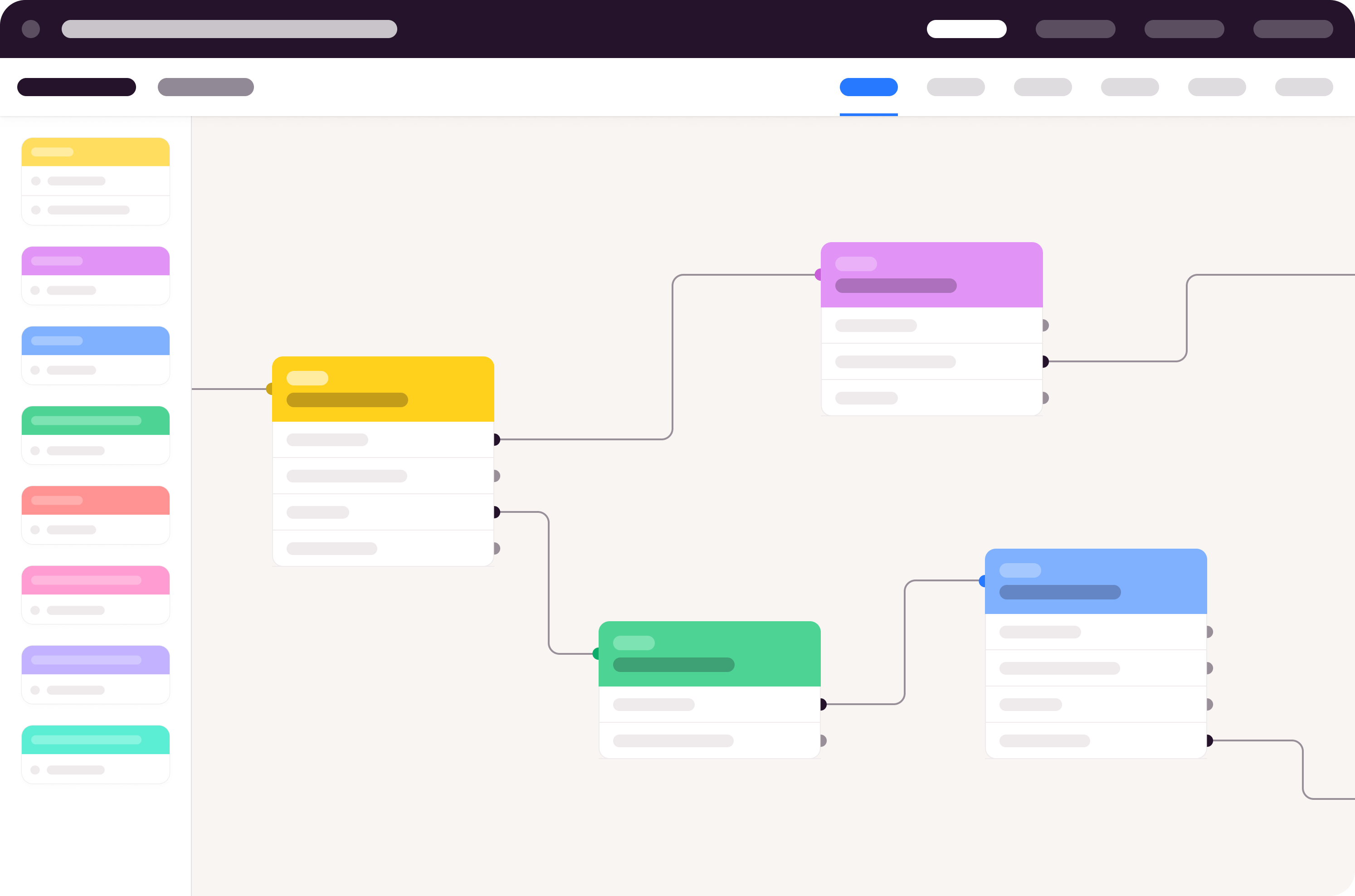 The flow builder
Design powerful dialog experiences using drag-and-drop
Create entire dialogs with ease thanks to maximum usability that delivers unprecedented flexibility for copywriters, project managers, and developers.
Map complex dialogs easily with multiple pre-build blocks 
Keep track of dialog flows and create reusable sub dialogs
Create dialogs once and repurpose them again and again
Have the smoothest conversations possible, every time
Parloa's Debugger
Ensure seamless customer interactions using our powerful tool, the Parloa Debugger, which enables you to easily find and fix logic errors in conversation flows, interpret NLU responses, and troubleshoot external services.
Highlight changes and streamline workflows in a few clicks
Optimize NLU performance with confidence analysis for intents & slots
Stay informed with comprehensive contextual information of platform and user values, conditions, or back-end connections.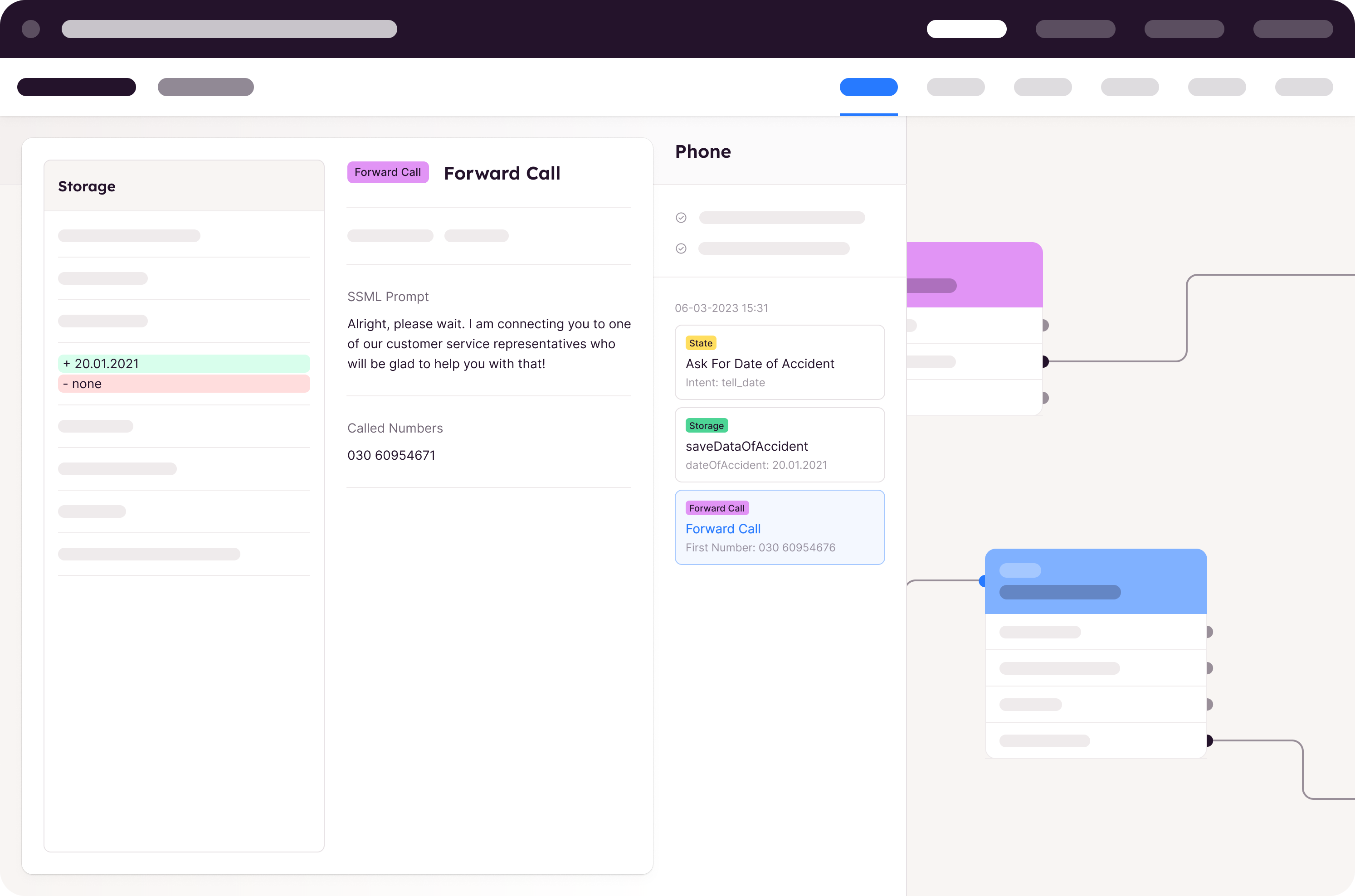 The visual SSML response editor
Use autocomplete to create responses faster & with fewer resources
Parloa's intuitive autocompletion lets you create dynamic responses for each channel without writing a line of code!
Different responses for all channels:

Build separate response elements for each voice or text channel.

Built-in SSML tags list:

Use all common SSML tags (e.g., <audio> and <say-as>) and platform-specific effects and layers to optimize the sound of each answer.

Create individual responses

using platform context and user input to maximize both consistency and variety of speech.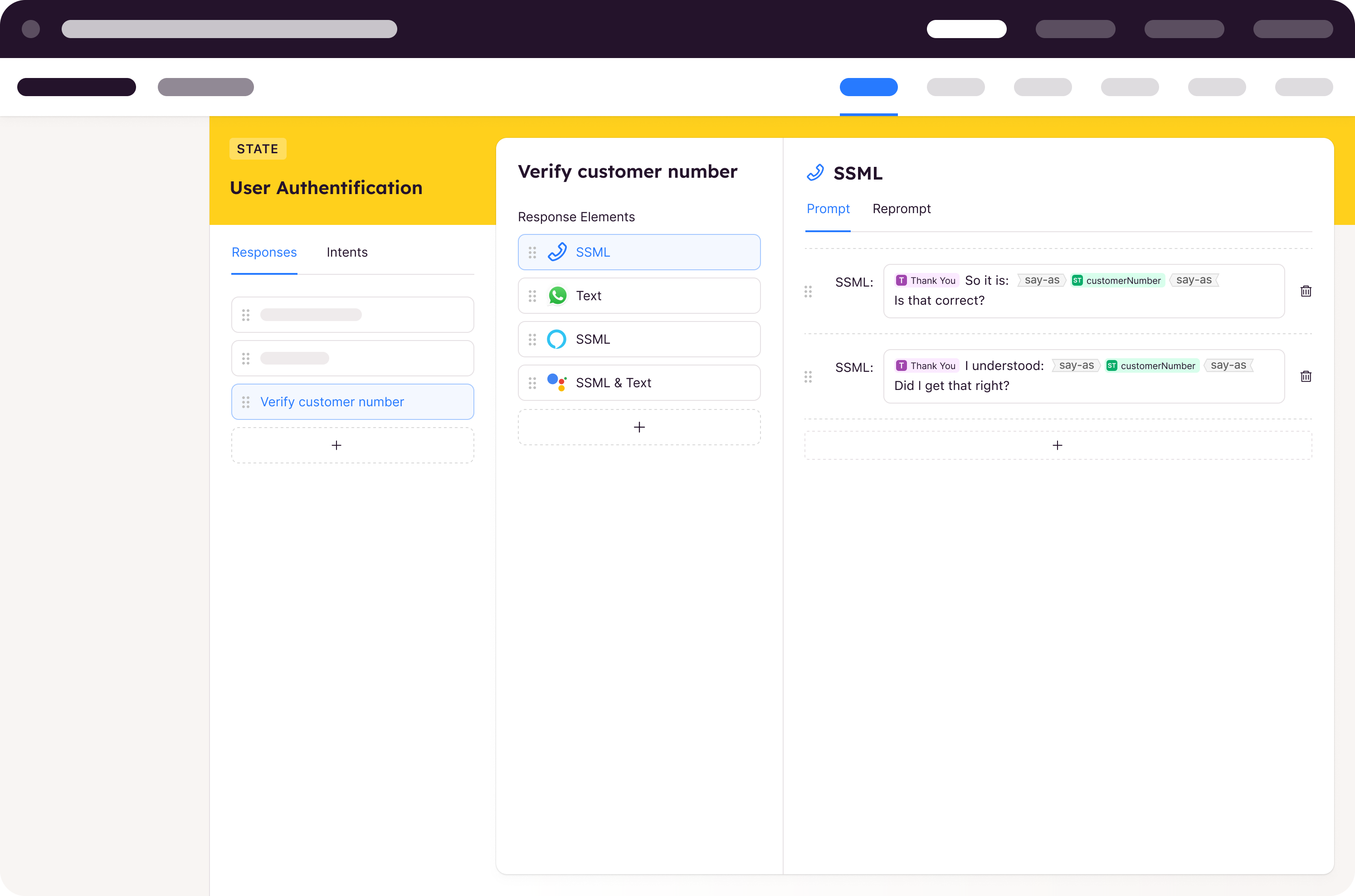 Add several responses per State Vary your dialogue with varied responses based on user intent.
Vary responses per Channel Different channels require different responses, e.g. in the difference between text and sound.
Define Reprompts per Response You can also provide varied answers to misunderstandings between humans and machines.
Reuse Text Snippets Why write "Ok" over and over again when you can work with reusable varied Text Snippets?
Use context variables Write individual & consistent responses per sessions thanks to both platform & user inputs.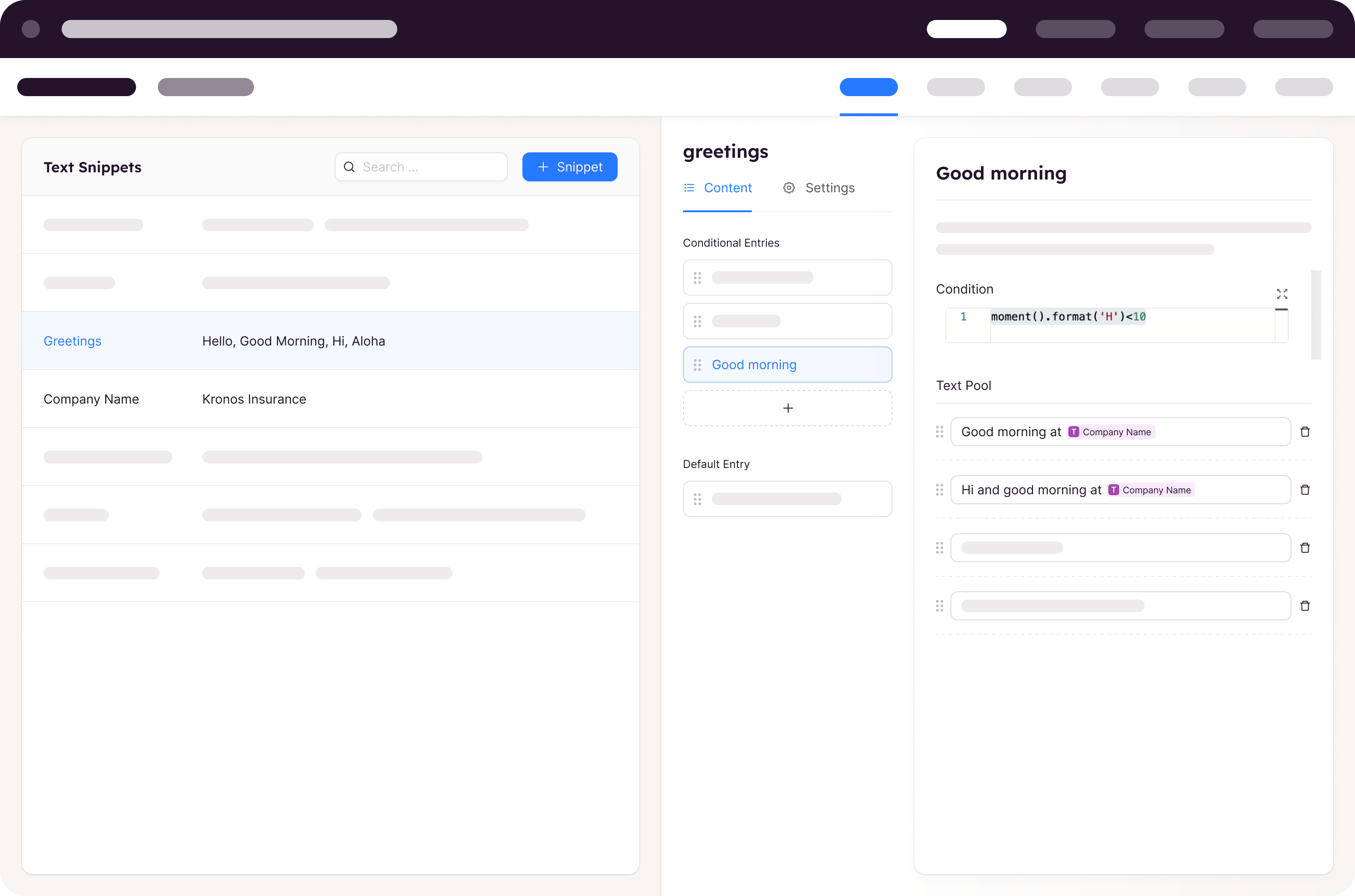 A safe place for your texts To minimize the complexity in the Conversational Flow, you will find Text Snippets in a separate view.
Keyword search Type in a word from your dialog and find what you wrote in no time thanks to keyword search.
Change selection settings Let Parloa chose your texts randomly, ordered or cyclical in order to improve your customer's experience.
Conditional Entries Embellish every dialog with only a few lines of JavaScript. Use Conditional Entries to pick up user details and platform inputs, such as time of day, and create dynamic and customized experiences.
Reuse Text Snippets Create important or recurring text modules once and reuse them in other Text Snippets. For example, you can easily reuse your company name in other Text Snippets – and change it with only one click.
Create dynamic interactions
Using conditional text snippets
Your customers deserve the best possible automated experiences. Parloa's text snippets enable you to build complex, customized dialogs in just a few clicks — all without IT's help.
Respond to customers based on conditional text entries
Reference text snippets in other chats
Choose from different selection strategies (e.g., random or ordered)
Our powerful speech model editor
Manage advanced NLU without writing a single line of code
Define all customer intents, train them with new phrases, create your dictionary for synonyms, and receive variable user inputs in slots to enhance your customer service capabilities.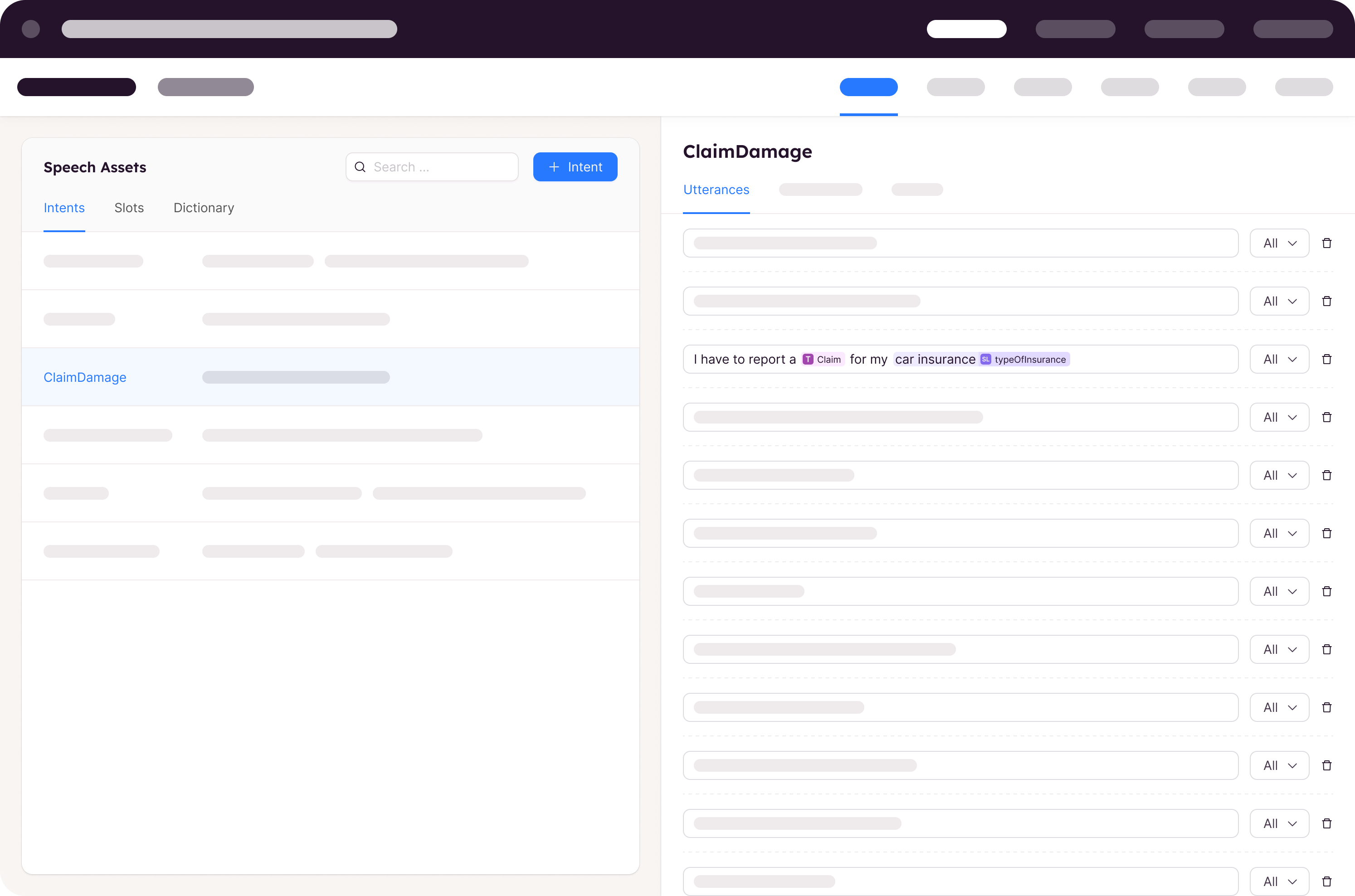 Individual Configurations Decide for each intent on which channel it is needed and wether it should be triggered on events, or set custom confidence thresholds.
Add utterances Teach the NLU about possible words and phrases that can be said or written for this Intent. Of course you can also upload your existing training data via Bulk Edit.
Ready for synonyms Define Dictionary entries for synonyms and reuse it everywhere in Parloa.
Use Slots Use predefined slots (e.g. ) or rely on machine learning and give the NLU hints in your utterances what to expect.
Add intents in the blink of an eye:

Enable and disable specific intents for your platforms with one click, define different confidence levels, or trigger them only for specific events.

Write dialogs

or use the "Bulk Edit" feature to upload your existing training data. Train the NLU with ease to help it learn more about your customers every day.

Create your own dictionary:

Add your own language to the Parloa Dictionary to save time when creating dialogs.
Read more about our NLU
Train your NLU on a continual basis to harness its full power
The more high-quality training data you collect, the easier it is to automate customer communication. Parloa's unique interface enables users to monitor past conversations and train your NLU in real time.
Find the right information faster by using Parloa's advanced search functionality to filter by phrasing, confidence levels, intents, and dates.
Understand your customers better and personalize each interaction by accessing conversation histories that give agents deeper insights.
Effortlessly train your AI and map dialogs to the appropriate intent. Define slots easily in a single click — without any coding knowledge required.
Learn more about NLU training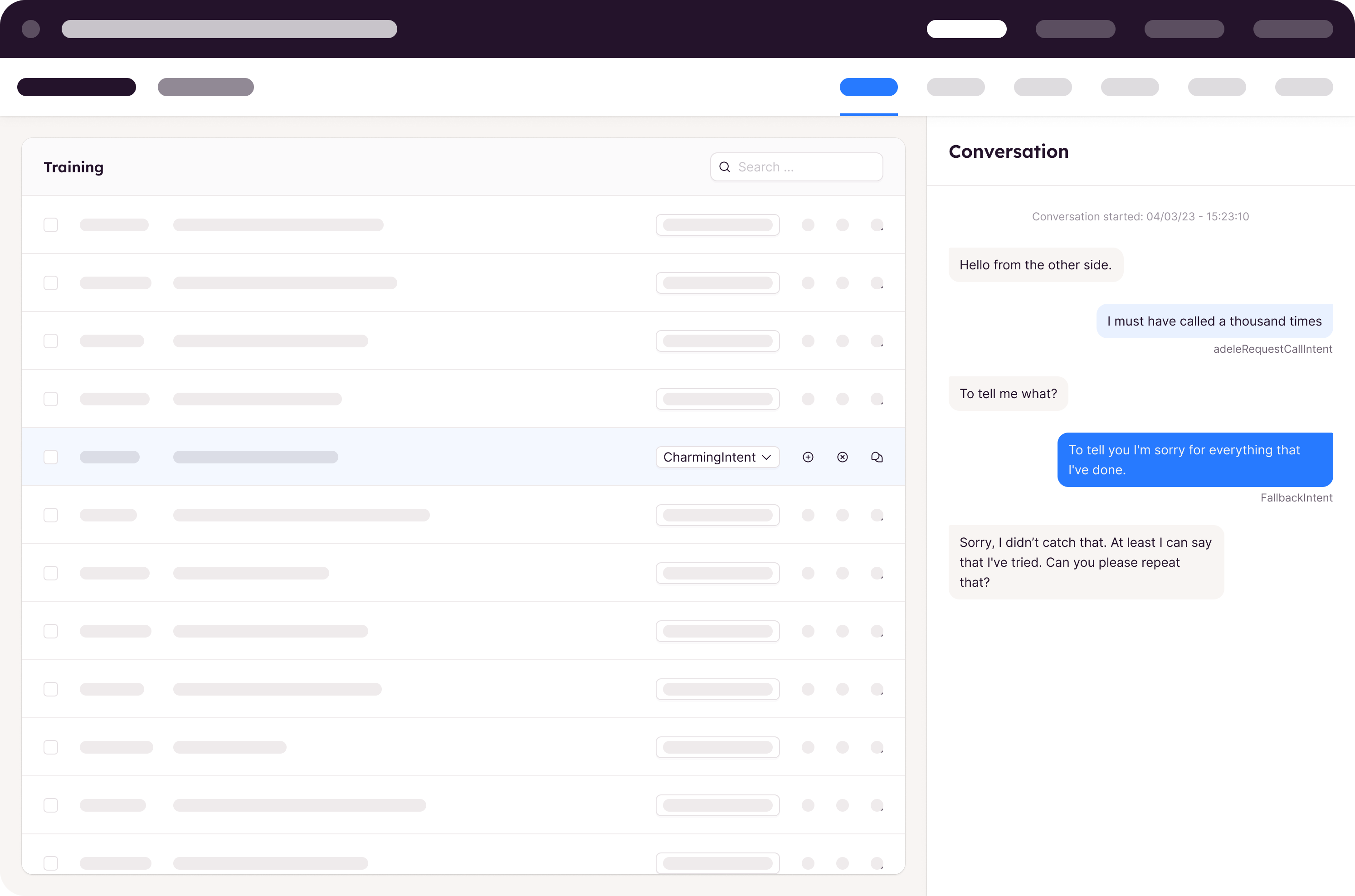 Use Filters Filter by confidence levels, specific intents, or time periods to improve your NLU focused.
Assign the correct intent Just select the right intent for misunderstood utterances. The rest is magic.
Review the entire conversation. If a misunderstood utterance is ambiguous, get context through the conversation history.
Purpose-built for your entire team
Made for VUI designers.
A drag-and-drop flow builder and visual SSML editor with autocomplete, text snippets, and more. What's not to like?
Made for project owners.
Keep track of each dialog flow, test them with your team, and show it off to your manager on the spot.
Made for developers.
Make Parloa your own by utilizing JavaScript for Storages and Conditions or seamlessly integrating external code via Services in Parloa.
Made for trainers.
Keep track of every past conversation and train your speech model with real data stored in one place.
AI solutions designed for people
At Parloa, our goal is ensuring every customer and every agent is smiling when calls end. To do this, we leverage the most advanced technologies available today, including generative AI, which is an integral part of our platform. Find out more:
"With the Parloa platform's low-code frontend, it is no longer necessary to involve Swiss Life's IT department. Employees can change routing, keywords and intentions themselves – intuitively and without any programming knowledge.

Tom Schneider

Consultant for Process and Project Management at Swiss Life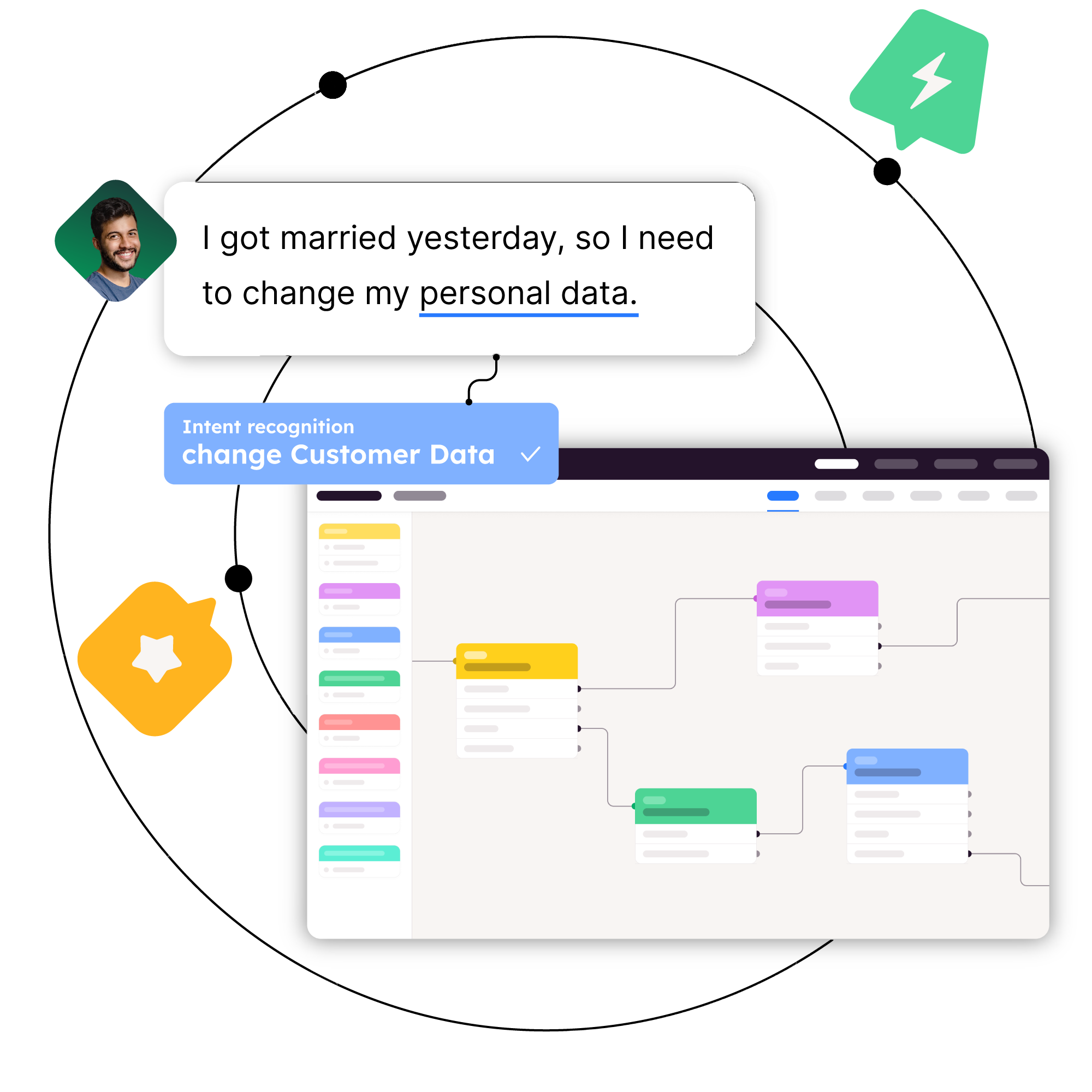 Set the standard of what contact center excellence looks like
Powered by AI, our robust contact center platform is designed to deliver great conversations — every time. With Parloa, enterprises can automate service channels, reduce customer waiting times, minimize repetitive agent tasks, and more!
Explore our platform
Our team becomes part of yours 💙
We're passionate about equipping contact centers with automation tools that empower them to soar to new heights. Parloa is designed to exceed expectations and deliver conversational experiences that truly engage and delight customers.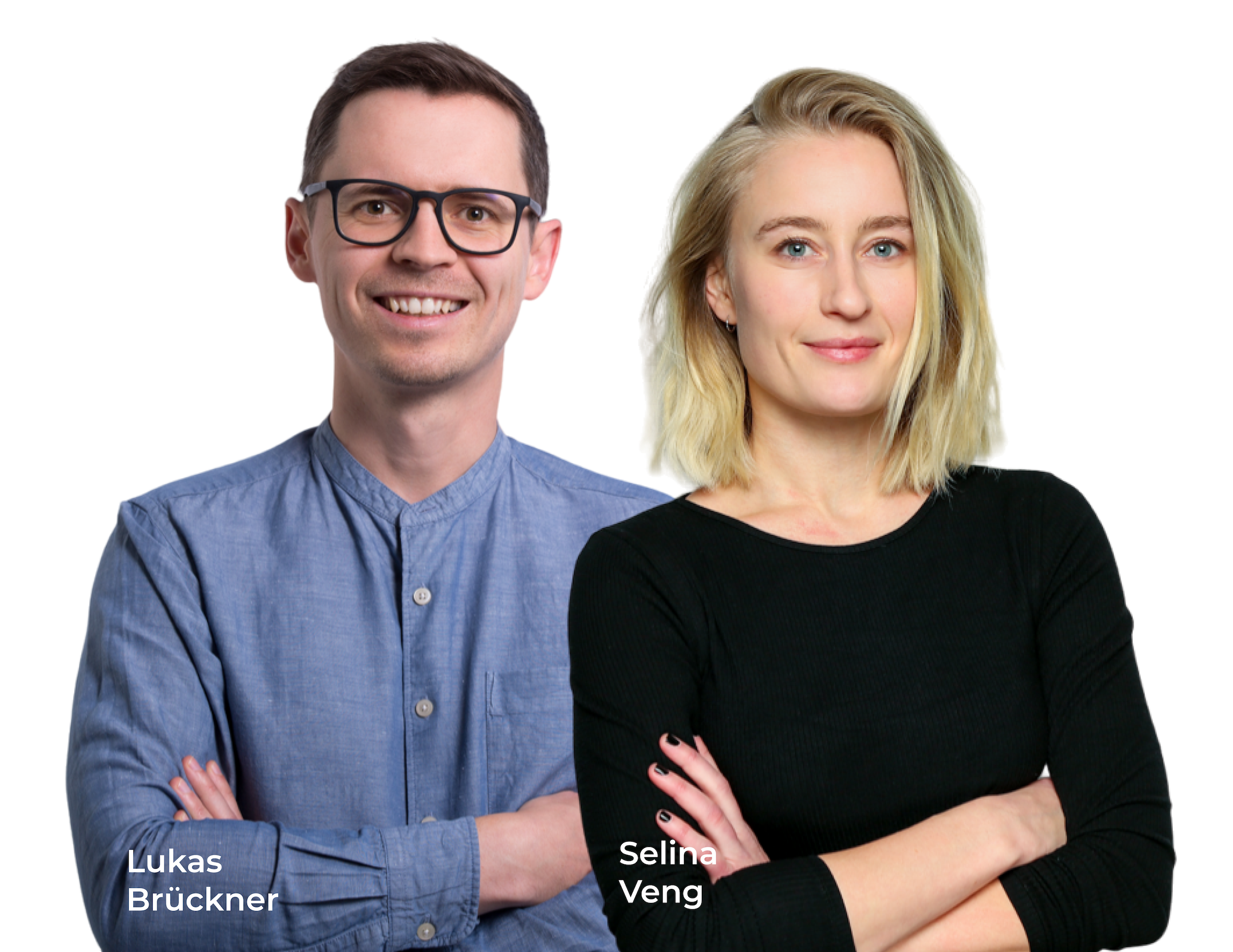 Want to take our beautiful interface for a test drive? Contact us today and let's get started!
Request your Demo
Let's talk
You will be in good company: