Unleash the full potential of automation
Parloa's AI-based contact center automation empowers customers to quickly find answers to their most important questions while freeing agents from repetitive tasks.
Automate your enterprise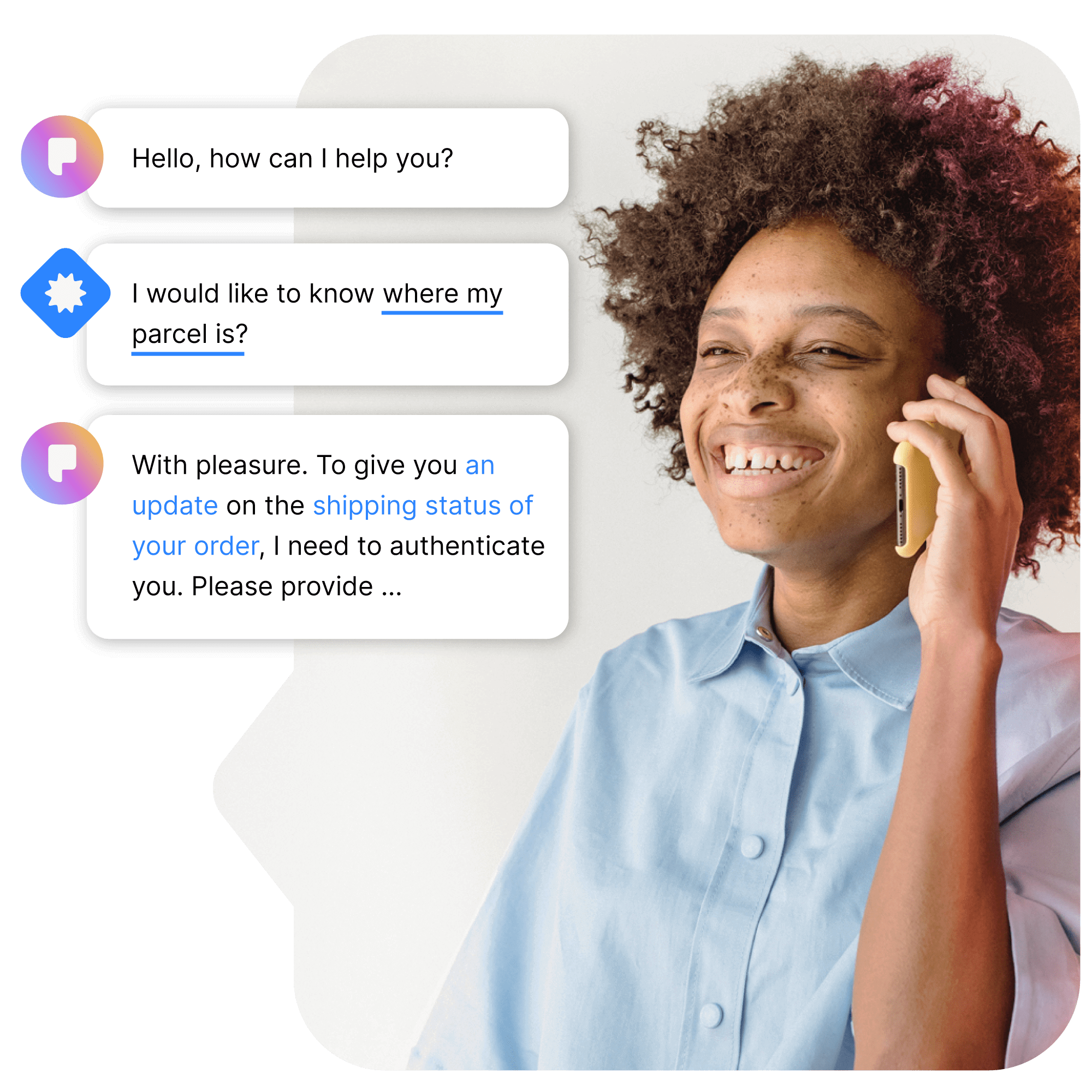 Increase operational efficiency
Parloa's contact center automation
In today's on-demand era, customers expect immediate answers to their questions and concerns. This is exactly why Parloa is purpose-built with powerful AI designed to automate recurring customer queries and free agents from frustrating, repetitive tasks.
With Parloa, ROI is rapid thanks to pre-built templates that businesses can use right out of the box.
Best of all: Our AI learns over time!
Discover how it works
Bake efficiency into the foundation of your contact center
Intent Recognition & Routing
The fastest way to improve contact center efficiency is to automatically route callers to the best available agent. Parloa's AI-powered intent recognition does exactly that, with 97% accuracy.
Routing structure

Fall back request

Global error handling

Agent escalation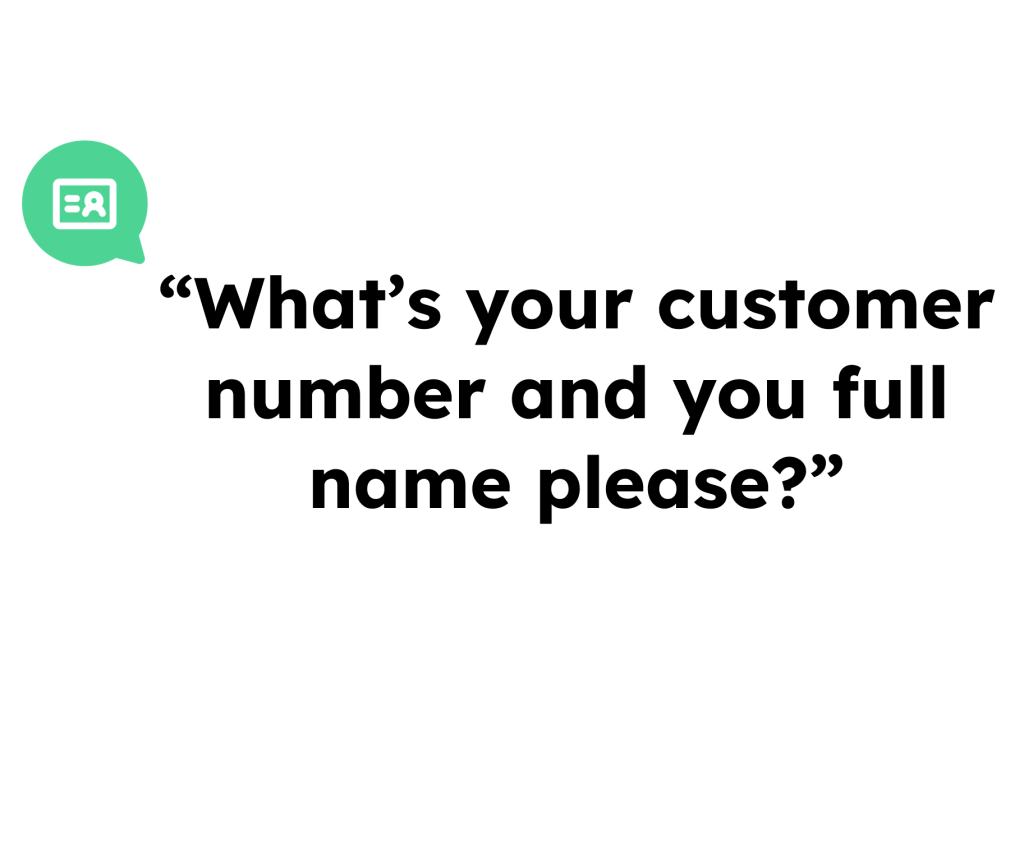 Improve contact center security
Authentication
Use AI-based authentication to automatically request personal information to verify a customer's identity. From email to birthday to two-factor authentication, Parloa provides extra layers of security.
First & last name

Birthdate

Customer number

Address

License Plate

PIN via SMS or email (multi-factor)
Automate customer support
Smart FAQs
Deliver strong customer experiences by using AI to automatically answer the most frequently asked questions. After a conversation, send additional information via SMS or email to add more value.
Opening hours

Contact details 

Bank account

Periods of notice

Receipt of invoices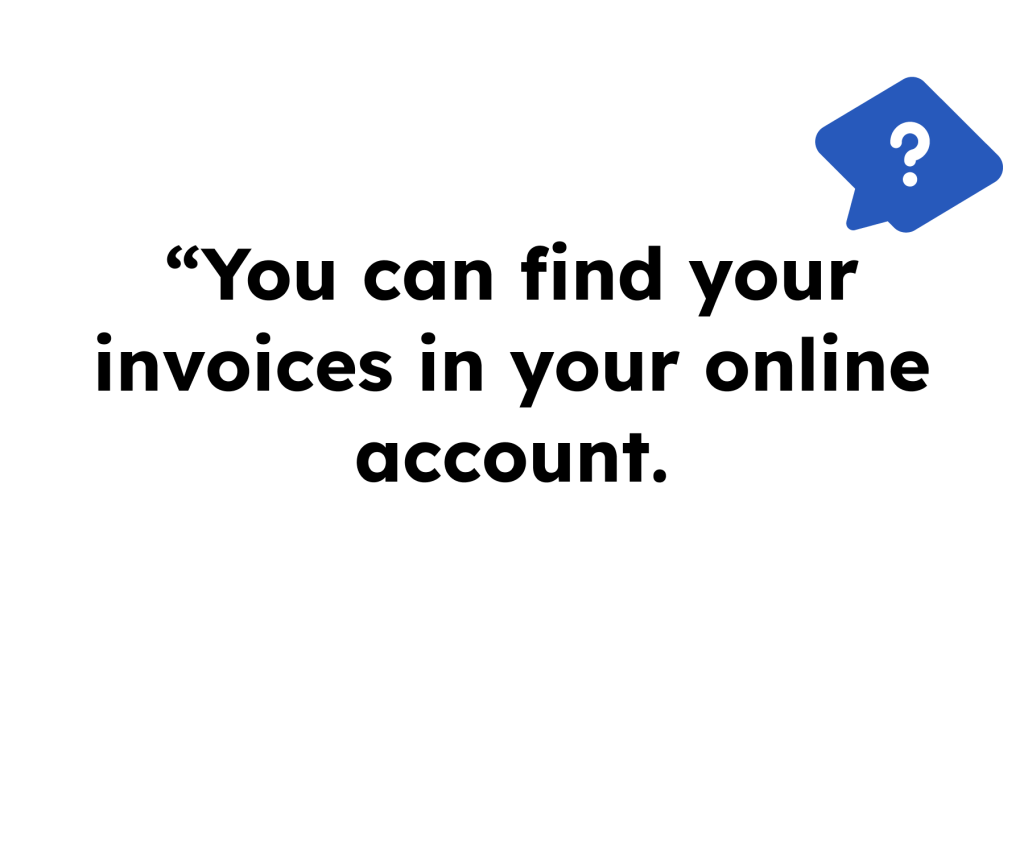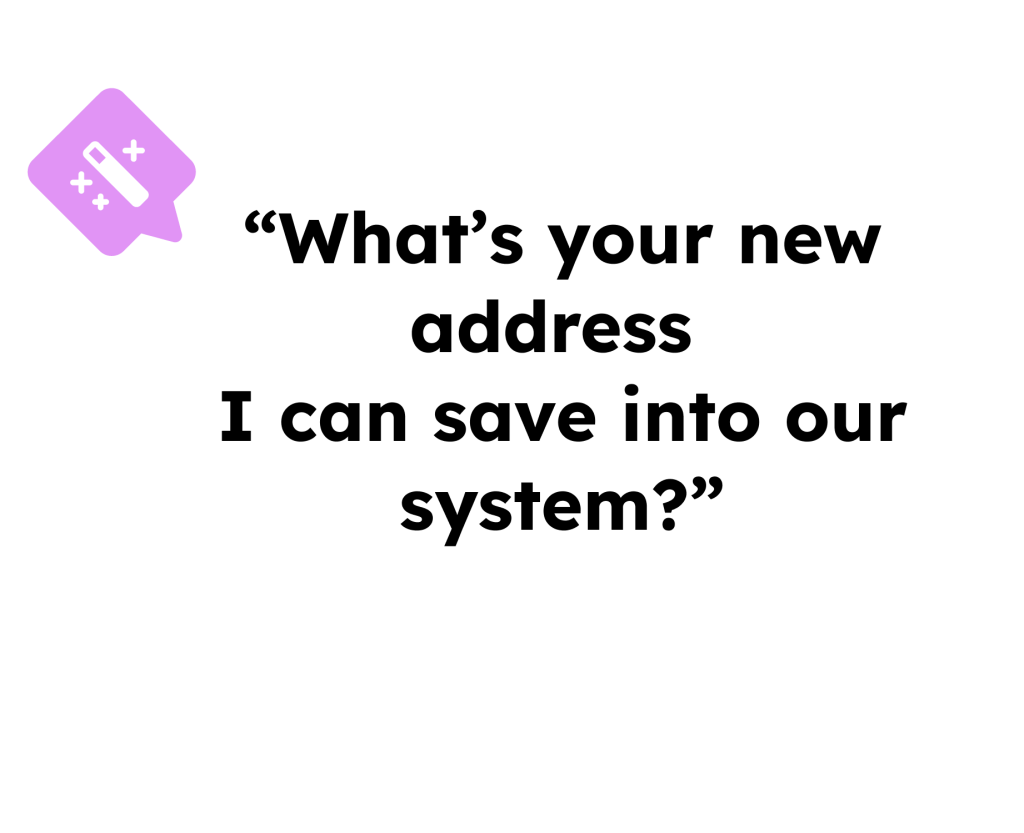 Accelerate workflows
Self-service
Let AI handle end-to-end processes on its own to reclaim time, increase productivity, and deliver better service. Our AI can take care of changes of addresses, bank details, and even order processing.
Change of contact data

Schedule a call back

File a claim

Ask for order status

Get SMS for self-service
Optimize the metrics that matter most to your contact center
With Parloa, enterprises get access to pre-built templates they can use out of the box that enable them to focus on the most important KPIs and deliver positive customer experiences.
Increase first contact resolution rates (FCR)
Parloa automatically routes customers to the agent who can handle each inquiry the fastest. As a result, customer requests are resolved during the initial interaction — with no callbacks required.
Decrease average handling time (AHT)
With Parloa, caller intent is securely captured to ensure each customer is routed to the best agent. With access to customer-specific information, agents can resolve each case quickly and competently.
Increase customer satisfaction scores (CSAT)
If you don't meet customer needs, they'll go elsewhere. By connecting callers with the right agent and swiftly resolving inquiries, you deliver strong experiences that create happy, loyal customers.
"The challenge was to create a routing logic that was as individual as the support we provide and as agile as our mindset. We were able to do this with Parloa.

Tom Schneider

Consultant for Process and Project Management at Swiss Life
Supercharge your contact center!
Uplevel contact center performance with powerful AI technologies. Learn more about all the different ways Parloa can help you quickly resolve inquiries and deliver stronger customer experiences.
Automate
Take repetitive tasks off your team's plate and enable agents to manage multiple customer requests at the same time. Accelerate response times by automating repetitive customer service tasks.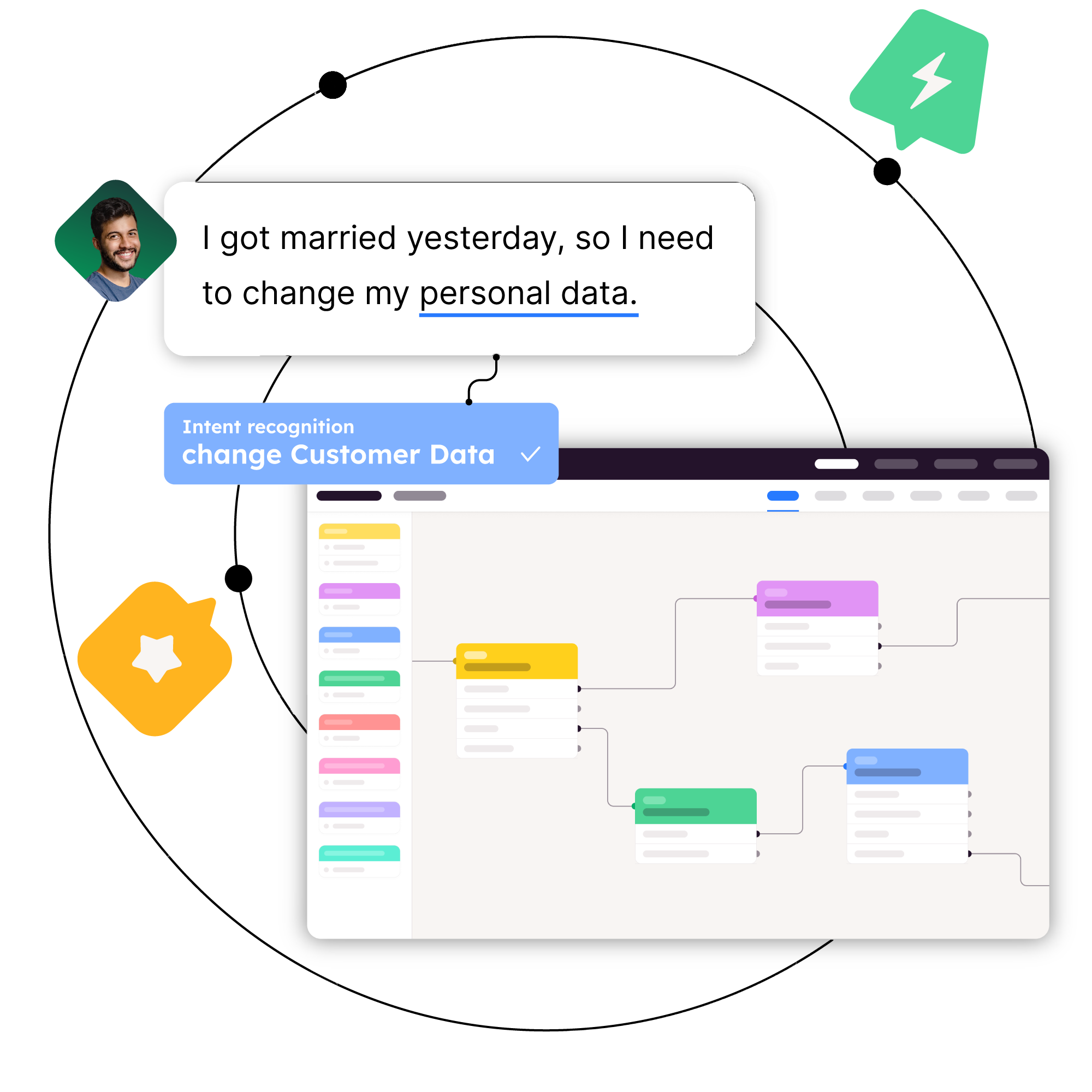 Deliver the best contact center experiences
AI and exceptional user experiences sit at the heart of our contact center automation platform. Parloa enables you to have great conversations by automating service channels, reducing customer waiting times, and minimizing repetitive agent tasks.
Explore our platform
Join forces with Parloa 💙
At Parloa, we love great conversations and work every day to help contact centers achieve automation excellence. That's why every part of our platform is built to create bots that are more advanced than you expect — and why our team is there for you, always.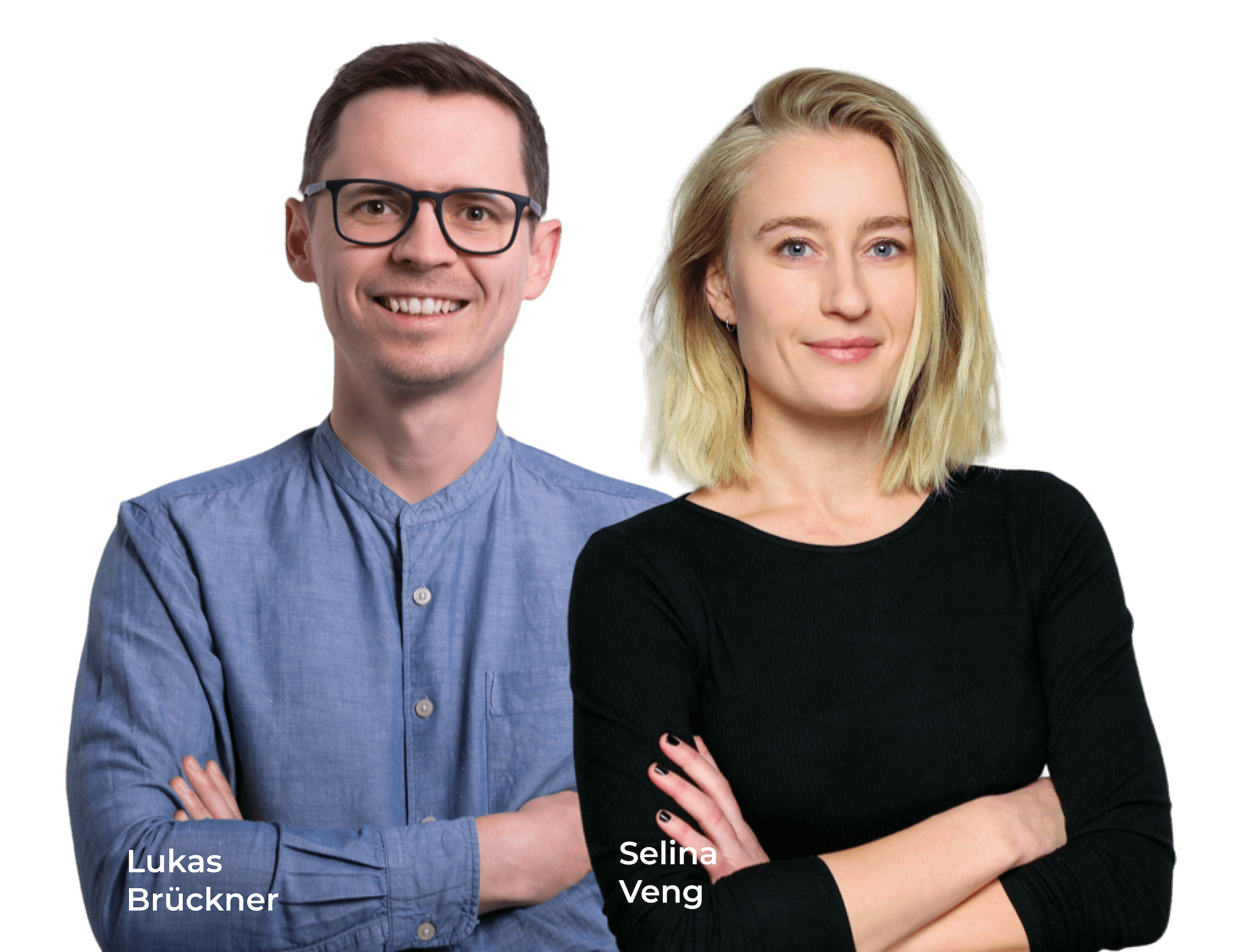 Ready to automate? Let's dive into all the options for your business.
See how it works
Talk to us
You will be in good company: